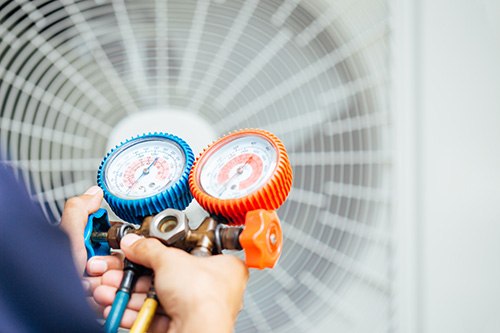 Our AC Maintenance Services
During an annual maintenance visit, our technicians perform a comprehensive AC tune-up. They begin by inspecting the system for signs of wear or damage. Grime on the evaporator coil will be cleaned and any airflow blockages will be cleared. Our team uses the latest equipment to measure airflow, temperature control, and electrical performance. They can address any issues on the spot, such as refilling refrigerant, tightening an electrical connection, or lubricating a motor.
Our technicians also check the outdoor unit and clear any dirt or debris inside it or on the coil fins. After opening the unit, they inspect the fan and condenser coil and look for any mechanical or electrical issues. The unit will be cleaned using professional methods. In addition, we'll verify proper clearance around the unit and that it is level. Our team follows a detailed checklist to ensure these tasks and more are completed and all your AC components are properly inspected, tested, and (if necessary) adjusted or repaired.
Benefits of Choosing Wingate
There are many reasons to choose Wingate as your air conditioning maintenance company in Cincinnati, OH. When you call on us, you benefit from our:
Expert Technicians

: All our AC technicians are NATE- and EPA-certified, so they are familiar with the latest models, testing equipment, and repair methods. They arrive fully uniformed and ready to service Daikin, Rheem, TempStar, and other top-grade appliances.

Customer Satisfaction

: We have hundreds of positive reviews from satisfied customers. Our reputation for professionalism has allowed our businesses to thrive for decades and continue to provide the maintenance needed to keep ACs across Cincinnati working.

Commitment to Punctuality and Efficient Service

: Our technicians are prompt and arrive prepared to service your air conditioning equipment. All the parts and tools they need are stocked in our service trucks. Whether the job entails a tune-up or minor repairs, the process is quick and effective. Your AC will run reliably and efficiently all season.
Frequently Asked Questions
How Can I Tell My AC Requires Service?
Call for help if your AC is blowing warm air. Weak airflow from the vents, temperature fluctuations from one room to another, and unusual noises such as screeching, squealing, grinding, hissing, or rattling are also reasons to call a contractor. An AC tune-up will help a technician find the cause and perform any necessary repairs.
How Often Should I Schedule Air Conditioning Maintenance?
We recommend professional AC maintenance at least once a year. Spring is the best time to have your system checked. But we can service your AC more often if it has known issues or you use it more frequently. We'll even check it in the fall when it's time for heater maintenance.
Is AC Maintenance the Same Thing As AC Service?
Air conditioning maintenance entails taking preventative measures to improve the unit's performance, increase efficiency, and extend its lifespan. While AC service can be done in the same visit, it refers to repairs such as replacing blower fans, sealing leaks, and recharging the refrigerant.
Can I Perform Air Conditioning Maintenance?
You should clean or change the air filter regularly, remove debris from the outdoor unit, and keep vents and registers open and clean. Also, check and clean the evaporator coil and condensate drain. Shading the outdoor compressor protects it from excess heat that can cause it to run inefficiently or break down. Your HVAC contractor will handle more advanced tasks.
Schedule Your Air Conditioning Maintenance Today
Wingate Heating, Air, Plumbing & Roofing provides high-quality AC maintenance in and around Cincinnati, OH. Annual service ensures your air conditioning system is reliable, efficient, and safe to use. It can also improve indoor air quality and equipment longevity, while costly repairs are less likely. We are A+ rated by the Better Business Bureau and committed to exceptional service and customer satisfaction. 
Continue browsing to learn more about our HVAC discounts and maintenance plans. To schedule your annual AC tune-up, book your appointment online or call 513-597-0904 today.