Furnace Repair Experts in Cincinnati, OH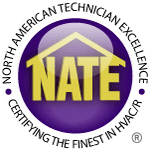 At Wingate Heating, Air, Plumbing & Roofing, we're known for providing top-grade furnace repair solutions to the residents of Cincinnati, OH. We've performed excellent service for the people of this region since 1968. Customers trust our team to attain consistent and long-lasting results. There is no type of repair beyond our capabilities, and we can handle any situation you encounter! The NATE-certified Cincinnati technicians we employ are all proficient, trained and licensed. Our crew can service your furnace regardless of its make or model and leave your equipment operating as it should. We realize how inconvenient furnace failure is, and we promise to come to your home punctually. We'll also finish every repair in a timely manner.
Reasons people choose us for furnace repairs:
EPA certification
Same-day service
Qualified and competent staff
Over 50 years of professional experience
Furthermore, as a BBB-accredited business with an A+ rating, we display the utmost integrity on every single visit. Each member of our staff is courteous, professional and personable. We'll ensure that your experience with us is seamless, smooth, and trouble-free. Our team will restore both your equipment and your peace of mind!
Common Furnace Problems
Strange Noises from the Furnace
Heat Cycles are Quick to Start and Stop
Any noises that suddenly develop are a reason to be concerned, here are some strange noises to listen for, banging at the beginning of a heat cycle, this can be commonly linked to dirty burners. When you hear constant clicking when the furnace turns on, this can be caused by a bad burner flame sensor. A grinding noise is never a good noise and can mean there is a possible issue with your blower motor. When you hear repeated clicking during the course of a heat cycle, this could be due to a faulty circuit or control panel.
Typically, a furnace runs two to three heat cycles of 10 to 15 minutes each over the course of one hour. When heat cycles only last half that time or less, this is a furnace problem known as short cycling. A clogged filter or dirty could be the cause of an upcycling filter. Having furnace troubles is never fun, but our team knows exactly how to handle any furnace. It is extremely important for homeowners to be mindful of their furnaces and any unusual sounds they may make.
It is very important to have professional furnace maintenance service, it is also important to have your system's air filter replaced on a regular basis throughout the year. Twice a year will keep your system running smoothly. Running your furnace with a clogged filter can cause all sorts of problems, from overheating to higher heating bills.