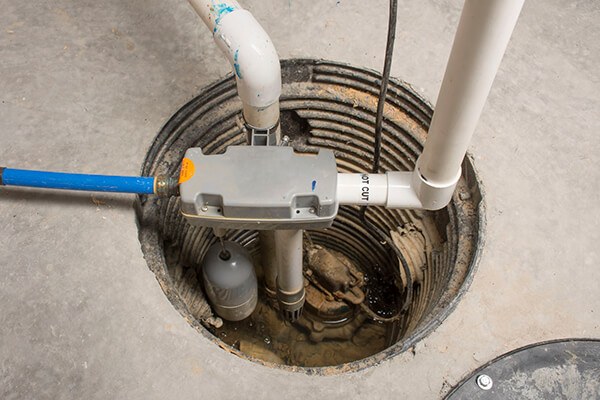 The Greater Cincinnati region is no stranger to heavy rains or severe weather, so it's a priority for property owners to protect their basements and other low-lying areas. Whether you're dealing with water seeping in from the saturated ground or a burst pipe or hose, sump pumps are a valuable first line of defense.
The professionals at Wingate can help keep your home nice and dry through our sump pump services. Our trained experts can identify the best spot in your basement for a sump pump installation to best protect your property. It's an investment favored by savvy homeowners. Installing a sump pump is far cheaper than cleaning up a flooded basement.
Sump Pump Replacements and Repairs
Many homes already have sump pumps to ward off flood damage. But, like every other fixture and appliance on your property, they'll eventually need to be replaced. The average sump pump lasts about ten years, but some may need to be replaced sooner.
If you're unsure if your sump pump needs replacement or repair, keep an eye out for these signs of trouble.
Your sump pump is constantly running or keeps cycling on and off. Your sump pump should run from time to time, especially after heavy rainfalls and in the early spring when the ground thaws. If it always seems to be running, it could be a sign your pump wasn't installed correctly or has a faulty sensor.
Your sump pump is unusually noisy. These machines typically produce a hum when they're working. If you notice a louder than usual hum or another noise, you may need a professional to deal with a broken or unsecured part.
Water in the sump pit appears rusty. While sump pumps are designed to function in water, they're not immune to corrosion. That rust can gunk up the pump's drain pipes, making them less effective.
Water is accumulating in your basement. This is the most obvious sign of trouble. Water may pool if your motor has failed or isn't powerful enough to keep up with the water seeping in.
How Does a Sump Pump Work?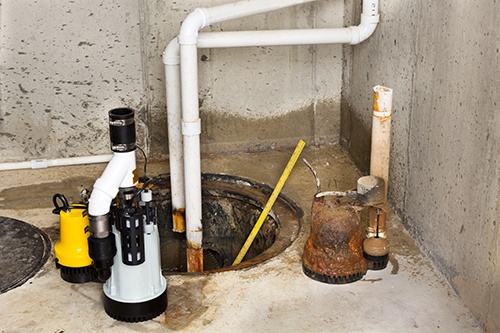 The sump pump is more than just a pump keeping your basement dry. The system consists of a sump pit, sump pump, and sump discharge pipe. When our crews install a sump pump system, we first dig the sump pit, sometimes called a sump basin, in your basement floor at either the basement's lowest area or in the basement area in which water tends to pool. We install the sump pit at least 10" from the walls to ensure the integrity of the foundation. Next, we install the sump pump submerged inside the sump pit, along with the sump discharge pipe.
When the outside soil becomes saturated with water, the sump pit will fill with the excess. The sump pump then redirects the water away from your home, saving your basement from water damage. The pump turns off once the water level is reduced in the sump pit.
Problems with Sump Pumps
As effective as a sump pump is at keeping your home's foundation from getting waterlogged, if your sump pump needs repairs, it will not work to its full potential. Common problems include electrical outages, filtration problems, a continually running pump, and the pump emitting unusual sounds. Often a valve needs to be changed, but sometimes the pump needs replacing. A pump needs to be the correct size for the amount of water it has to process. If your pump is continually failing, it might be time to upgrade to a larger sized pump.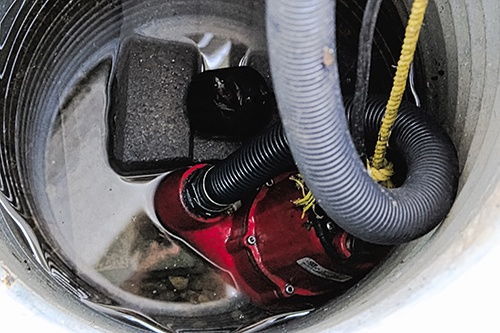 Be sure to call your trusted plumber immediately if you are experiencing problems with your sump pump. Wingate can assess the problem and find solutions for you, so you won't have to risk water damage in your basement. We will replace your broken pump with a new model, or we can install a new sump system if it benefits your property. Remember, at Wingate, one of our values is honesty. We will never try to sell you a service or product that is not right for your property.
Whether you need a sump pump replacement, installation or repair, Wingate has your back. Our plumbers go through extensive training to best protect your basement from flood damage. Schedule an appointment by calling today or messaging us through our website.