Affordable HVAC Installations in Cincinnati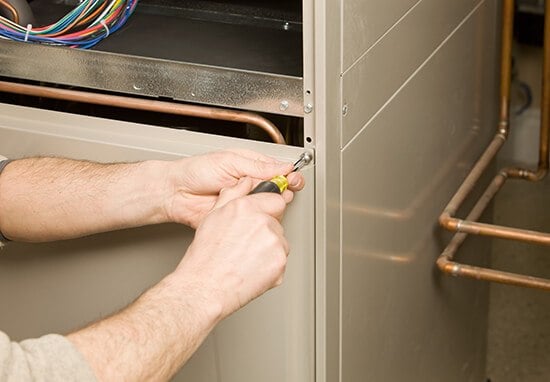 At Wingate Heating, Air, Plumbing & Roofing, we make it easy to move forward with any HVAC installation in Cincinnati. Our technicians will arrive at your home with everything they need to complete their work efficiently. We use high-quality parts to install heating systems to ensure everything can operate optimally.
We strive to:
Arrive at our appointments punctually
Answer all questions clearly and thoroughly
Treat customers with a high level of respect
Leave a clean work area
Is it better to repair or replace your furnace?
It can be very intimidating knowing if it is better to replace or repair your furfance. A new furnace should be repaired if possible. This is important to preserve it for the remainder of its life. If your furnace is over 15 years old and requires constant maintenance, it is more cost effective to replace the entire furnace. It is important to think of this scenario like buying a car. If your car has an issue you would repair it first, rather than replacing it. It is the same with a furnace. It is important to take action to repair before buying a whole new furnace. The decision to replace or repair your furnace can be challenging, but with our company we can guide you in the right direction.
You'll be given training on how to operate your new heating system. We'll show you how to take advantage of its various features. When we're done, all waste will be removed from your property.
It's worth noting that the average lifespan of a furnace is typically around 20 years, depending on various factors such as maintenance, usage, and quality of installation. Our team is here to make sure we provide you with a new furnace that lasts for a long time.
The Best Cincinnati Furnace Replacement Team
Wingate Heating, Air, Plumbing & Roofing has been serving the Cincinnati area since 1968. We aim to build lasting and trusting relationships with our customers. Your best interests are important to us, and you can count on us to offer sound advice about any heating replacement situation. We're fully licensed, bonded, and insured. You can count on us to work meticulously so that our results stand the test of time. In order to be upfront with our pricing, we always provide a cost estimate for a job before we get started. We want our HVAC installation services to be a great value for our Cincinnati customers.
Energy-Efficient Focus For Furnaces/Heating Systems
The most energy-efficient heating systems currently available are heat pumps (geothermal and air source) and furnaces. AFUE measures how much of the furnace's fuel source (natural gas, electricity) is converted into heat energy, with the remainder being wasted. The world's most-efficient furnaces reach rates of 96-98%. This is possible by furnaces utilizing nearly every bit of gas or electricity. Electric furnaces have a higher AFUE than gas furnaces, but this doesn't mean electric furnaces are always cheaper to run.
When considering an energy-efficient furnace, it is important to remember that having an energy-efficient house keeps your furnace running more efficiently. Our team can help you achieve the most energy efficient results with your furnace, we are just one call away!
Our team can also repair and maintain the heating system that you currently have in your home. We offer AC installations as well! Contact Wingate Heating, Air, Plumbing & Roofing today to set up your consultation about a new heating system in Cincinnati Ohio.