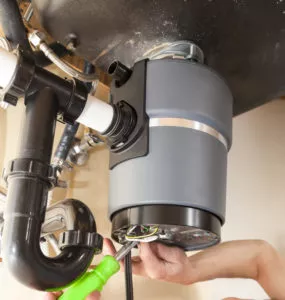 Garbage disposals are built for convenience, making cleanup after meals a simple affair. But those benefits can disappear in a hurry if your garbage disposal breaks down or gets too jammed to function. Fixing these units can be a tricky affair; the last thing an amateur plumber should be doing is sticking a hand into a machine of blades and grinders.
Wingate plumbers have extensive experience with garbage disposal repairs and replacements in the Cincinnati area. Not only do we work with on all makes and models of garbage disposals, but we value open communication with our customers. We don't want to leave you guessing about your repairs and want to pass along any tips that could help you avoid potential issues in the future.
Cincinnati Garbage Disposal Repair
Garbage disposals are a popular household convenience, but jammed or clogged garbage disposals can quickly become a huge plumbing problem. Wingate's plumbing professionals provide garbage disposal services, including installing a residential garbage disposal, repairing and clearing clogged garbage disposals. Commercial garbage disposal services are also available.
If you have a garbage disposal, it is vital that the unit and garbage disposal plumbing are in good working order to prevent kitchen drain clogs or backups. Garbage disposals can be damaged if non-food objects like silverware, sponges, or straws are in the appliance. Garbage disposal clogs can be caused by food items like fats or grease, bones, or highly fibrous foods like celery.
If you suspect you have a clogged garbage disposal, it is important to contact Wingate plumbers quickly to perform garbage disposal installation or garbage disposal repair. A clogged garbage disposal can lead to clogs further down drain lines, leading to more severe drain clogs or backups that will need repair. Wingate plumbers can repair almost every brand name and size of garbage disposal, extending the life of your garbage disposal for many years. Common garbage disposal repairs include:
Leaks – Worn out seals allow waste and odors to escape, potentially causing health concerns or wet work areas.
Jams – Excessive food or hard-to-grind items prohibit motion of the blades.
Humming – The motor or impellor may be burned out.
Nothing happens – The unit might need to be reset or connection needs to be checked.
Won't drain – The unit may not be chopping food properly and waste may have clogged the drain pipe.
Call Wingate today and ask about our commercial garbage disposal services or schedule a garbage disposal repair.
Garage Disposal Installations
Homeowners need to be sure they're installing a garbage disposal capable of meeting their needs. Your unit could burn out or jam if it isn't designed to keep up with the amount of food waste your property produces. At the same time, you're wasting your money if you purchase a unit that packs more power than your kitchen will ever need.
Wingate plumbers have earned a reputation for honesty, integrity and skill. Our trustworthy team knows what it's doing and works hard to get our customers the best bang for their buck. Before we install anything, we'll talk to you about your kitchen so we can match it with the perfect model garbage disposal.
Restaurant and Commercial Garbage Disposal Service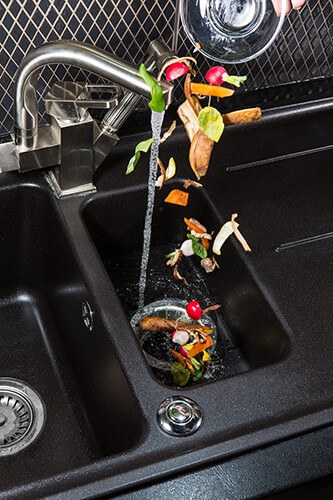 The kitchens in many businesses rely on properly functioning garbage disposals in their commercial sinks. Commercial garbage disposals are an important component in reducing the chance of clogged drains, as they chop up food waste before it enters drain pipes.
Commercial kitchen garbage disposals come in many different styles and horsepower models to handle a wide range of volumes. Light duty garbage disposals are generally required in fast-food restaurants, convenience stores, delicatessens, and office kitchens. Schools, hospitals, and medium-sized restaurants can usually use a medium-duty model. Large restaurants, hotels, factories, and kitchens that handle high volumes of waste will require heavy-duty commercial garbage disposal.
Unfortunately, regardless of whether the unit is heavy or light duty, commercial garbage disposals can be overwhelmed by large volumes of waste or be damaged by non-food items such as straws, silverware, or dishcloths. Commercial garbage disposal clogs usually require professional service. Wingate's plumbing experts can install, repair or replace any type of commercial garbage disposal. Restaurants, hospitals, schools, hotels and other establishments can't afford downtime in the kitchen, so our plumbers are available for commercial garbage disposal repairs. We'll provide a free written estimate, get the job done quickly and professionally, and stand behind our work with our no-hassle guarantee. Our expert plumbers can solve any commercial garbage disposal repair and can even provide commercial garbage disposal installation.
In addition to garbage disposal plumbing, you can inquire about other Wingate plumbing services when you call or book an appointment online.
If your garbage disposal is on the fritz, there's only one business to call. Wingate is the biggest locally owned plumbing company in Greater Cincinnati, and we have decades of experience sorting through burned out motors, faulty wiring and jammed blades. We know how stressful these issues can be, so we work hard to get your daily routine back on track. You can schedule an appointment by filling out our online form or giving us a ring.