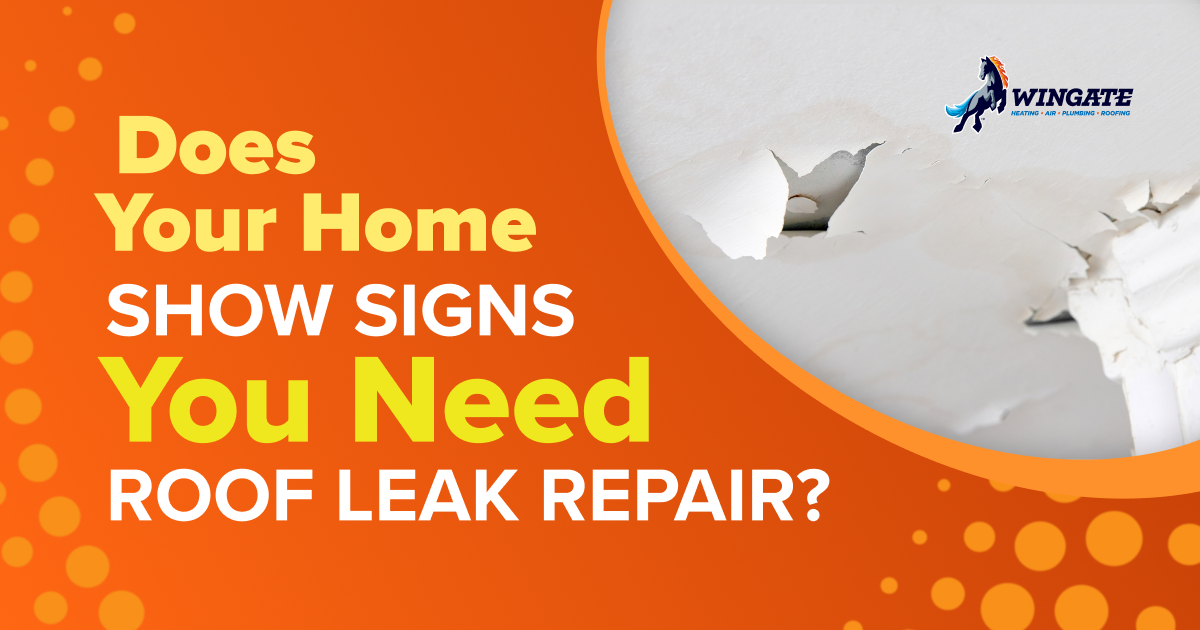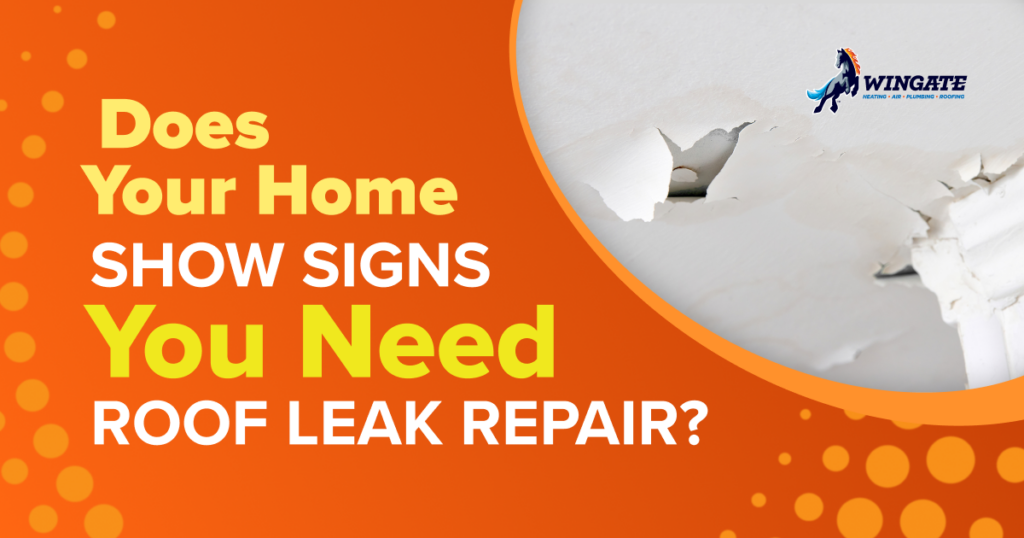 Prompt roof leak repair can avoid water damage, mold, and structural failures. Wingate's roof repair professionals can fix any problem, whether your roof has cracks, damaged shingles, or a leak. You don't necessarily need access to your roof to suspect something is wrong. Call a roof repair contractor if you see these ominous signs in your home or on the roof's visible edges:
When to Call a Roof Contractor
Stained Ceilings and Walls
Brown patches, yellowing, and faint rings on a ceiling or wall are clear signs of water damage. These can appear in the center of a room, a corner, or an alcove. Water tends to flow to the lowest point. And this is often where light fixtures are, so electrical damage is possible, in addition to the risk of mold, rotted framing, and damage to sheetrock, plaster, and other materials.
Exterior Walls Are Moldy
Mold on exterior walls is a strong sign of a roof leak. Persistent dampness creates the ideal environment for it to spread. Mold is more common in darker places, but if it's growing in areas with sunlight exposure, a leaky roof is likely providing the moisture it needs to thrive.
To find the source of the problem, measure how far the mold is from a door or corner and measure the same distance on the outside of the wall. You've likely found the source if the ground slopes toward or a downspout empties near that spot. A roof leak repair professional can correct the problem or repair any roof damage they find.
Visible or Audible Dripping
If you hear dripping water, investigate the source even if the noise isn't constant. Water can do damage over time. Freezing and thawing of ice may cause intermittent leaks, or the sound may only occur during rainfall. Check the attic first. If the dripping here is louder, the roof deck is wet, or you see water dripping or pooling, call a roofing contractor.
Pipe Condensation or Corrosion
An unsealed stove pipe may allow water to enter from the roof opening. If so, the pipe may be visibly wet, feel damp, or appear rusty. A professional can quickly seal the stove pipe at its entry point to stop rainwater from seeping through.
Plumbing vent boots can also be a source of leakage. Torn or rotted rubber boots should be replaced. Also, check for cracks around plastic bases and broken seams around metal bases. Call a professional to correct the issue, but if the boot looks okay, check for missing or pulled-out nails at the base and replace them using screws with rubber washers.
Stained Bathroom Fan
If the ceiling around your bathroom fan is stained, the vent cap on the roof may be leaking. But this isn't always the case. Condensation may occur if the vent pipe isn't properly insulated. Contact a professional to determine whether to insulate the bath fan ducting or perform roof leak repair.
Exterior Light Is Visible From Above
Light from the sun or artificial sources should never be visible from below the roof. A light stream means there's a hole, space, or crack that will also let water in. Call for help before a leak begins and does more damage.
Frosted Nails
Check areas where you can access the underside of the roof. Shiners, or nails that missed ceiling joists, struts, bracing, rafters, and other roofing elements, should look clean. If they're frosty or white, moisture is condensing on them. The most likely culprit is a roof leak.
Look Around the Exterior of Your Home
The signs you need roof leak repair may not only be inside your home. Fortunately, you don't have to climb onto your roof to see them. Curling or buckling shingles, blocked gutters, debris in downspouts, and clogged soffit vents are issues you need to address to avoid or prevent a roof leak.
Schedule Roof Leak Repair in Cincinnati
Call Wingate if you notice signs of a roof leak in your home or if your roof appears damaged. Prompt, thorough, and professional, our technicians will inspect your roof, make necessary roof leak repairs, and clean gutters and downspouts to ensure your home is leak free. To schedule immediate roof service, contact us or call 513-216-5699.