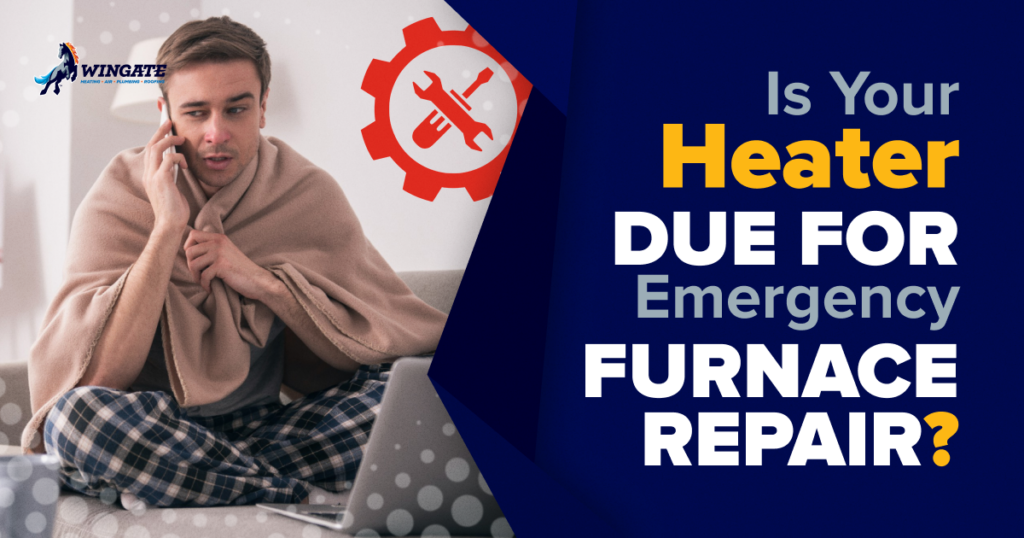 If your heater is due for emergency furnace repair, Wingate can be at your home quickly to fix the problem. It's important to recognize the signs of a heating emergency. Many people call only when their furnace stops working. But at this point, the damage may be irreparable. Don't ignore subtle signs your furnace requires an emergency repair. We'll look at some of these to help you avoid a breakdown and get more years out of your furnace.
The Fan Runs Continuously
Your furnace should run for about 10 to 15 minutes, about three times per hour. If the fan never shuts off, the system will use more energy and can wear itself out. Check the thermostat setting first; it should be set to "Auto" instead of "On". Reset it if necessary. But if this doesn't help, call an HVAC technician to check for a connection issue or a mechanical or electrical problem.
The Flame Is Yellow
It's a good idea to check the flame regularly. If it's any color other than blue, a problem with your furnace is affecting combustion. A yellow or orange flame indicates the gas isn't burning hot enough and can mean there's a carbon monoxide leak. The situation can also be a fire hazard. Call for emergency furnace repair to restore heating and your safety. If the carbon monoxide detector goes off, evacuate your home and call for help.
Your Furnace Is Leaking
Your heater is certainly due for emergency repair if water is dripping from the walls of the tank or there are puddles of water in your basement. Call an HVAC repair company right away. You should also not see steam rising in the area either. Turn the unit off immediately and request emergency service.
There's No Warm Air
If the air from the vents is cold or lukewarm, your furnace needs to be repaired. The only issue you can fix yourself is if the thermostat is on the wrong setting. Only a professional can address an issue with the pilot light, burner, or ignition. Don't wait if there's a lack of warm air. The issue will get worse and the sooner you call for help, the sooner you can have heat restored before a cold snap.
Your Home Is Dusty
If dust is accumulating in your home, you may not immediately think of your furnace. But if your furnace is working too hard or the air filter is clogged, the system won't be able to filter the air. Replacing the filter may fix the problem. But if your home is persistently dusty or increasingly so, consider the age of your furnace and when it was last serviced.
Your Home Smells Like Rotten Eggs
This usually does not mean the eggs in your fridge are rotting. It's a telltale sign of a natural gas leak. Since natural gas doesn't have an odor, gas companies add a chemical so a leak can be detected. If you smell rotten eggs near your furnace, call a professional right away. Also, call for emergency furnace repair if you notice a metallic burning smell or a chemical odor from the unit.
The Furnace Is Louder Than Usual
Heating systems sometimes make noise. But if your furnace is getting louder over time and the noise is becoming more frequent, call a technician. Sounds to be concerned with include grinding, which can come from damaged motor bearings; rumbling, which means fuel is continuing to burn after a cycle; and thumping from a loose motor or blower wheel. More frequent and louder popping can mean the heat exchanger is developing cracks.
The Furnace Won't Turn On
If the furnace won't turn on, call an emergency contractor, especially if the thermostat is set correctly or the breaker hasn't tripped. The furnace may be overheating and an internal sensor keeps shutting it down. However, this sensor can malfunction. If the unit is overheating, it will continue running without shutting off; call for help if this happens.
Call Wingate Heating, Air, Plumbing & Roofing
We have NATE-certified furnace repair experts who can fix any make or model. They can provide emergency furnace repair regardless of the nature and scope of the problem. Familiar with all common issues, our team works quickly to troubleshoot and repair heaters across the Cincinnati area. To schedule a timely furnace repair by qualified technicians, schedule your appointment online or call (513) 643-0467.