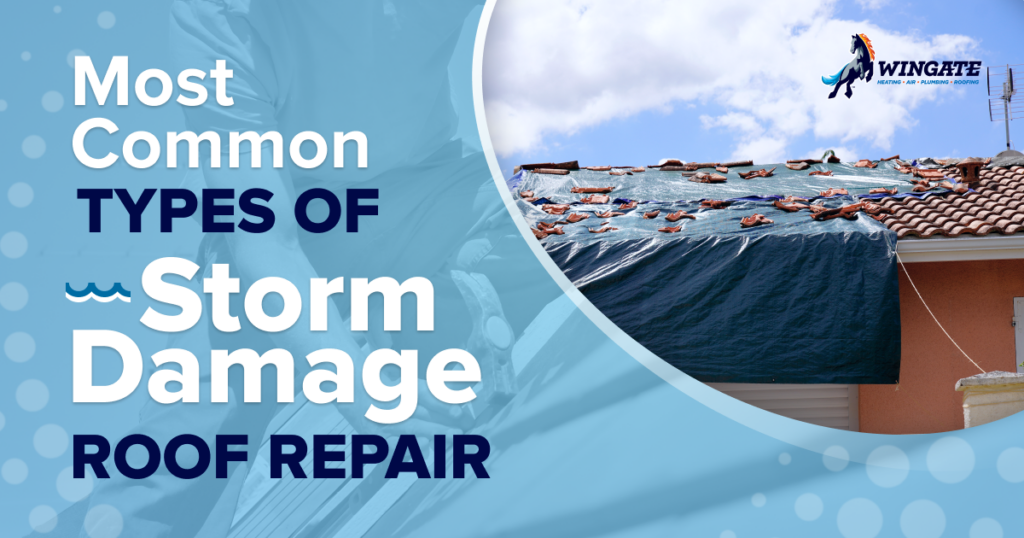 After a snowstorm, hail, high winds, or a tornado, roofing contractors are often called out to perform storm damage roof repair. These specialists are familiar with common types of roof damage from storms . Failing to repair a roof in time can compromise your entire home. Here's a look at some common repairs often needed following severe weather events.
Shingle Repair/Replacement
Asphalt shingles blow off easily in high winds. When these are missing, your roof is not protected against the elements and is more prone to leaking. Water can then seep into deeper materials and cause significant damage.
Aside from lifting off and blowing away, shingles can become bent or broken. Even a loss of granules can be problematic as these help reflect the sun's heat and can clog up gutters and downspouts. You can patch a few missing or damaged shingles. But if large areas of shingles are missing, a contractor may suggest replacing your entire roofing system.
Roof Leak Repair
The force of heavy rain, or the constant bombardment of debris, can wear out shingles and create holes. Water can seep through gaps and permeable materials. Even standing water can eventually leak or cause rot. The effects can spread to underlying structural materials and mold or mildew can form. If there's a roof leak, indoor temperature control issues can occur and it can affect the comfort of your entire household.
Therefore, call a roofing contractor no matter how small a roof leak may seem.
Gutter Damage Repair
Gutters are attached to the roof and provide a means for water drainage. These exposed elements are easily damaged by storms. Sections of gutters or gutter joints can be repaired. If necessary, damaged sections can be replaced to prevent water from collecting on the roof and causing more damage.
Structural Damage Repair
Storm damage roof repair isn't always as dramatic as replacing a roof that completely blew away. Aside from damaged shingles and gutters, the storm damage a roofer might fix can include:
Fascia: A board that runs underneath the gutters, the fascia connects the roof perimeter to the rafters. It's typically easy to spot fascia damage such as rust, rot, or missing pieces. Damage should be fixed quickly before structural integrity is affected.
Soffit: Providing ventilation, this metal component attaches under the rafters and runs perpendicular to the fascia. A damaged soffit can cause moisture and heat to build up. A contractor can easily fix it; they'll also check for potential structural damage.
Plywood Decking: The base of the roof is where the shingles are secured. Exposure to the elements can cause plywood decking to deteriorate. If it's sagging, shingles may dip along with it. Sections can be replaced if the damage is limited, but extensive damage will require a full roof replacement.
Fungus and Moss Removal
A technician will check if the growth of fungus or moss is superficial. But by the time these are found, they have often already grown underneath shingles and into the plywood decking. Roof maintenance such as cutting away tree limbs and cleaning gutters can prevent this. If moss and fungus have become widespread, a roofer will have to remove and replace materials to restore your roof.
Ice Dam Repair
Ice dams can cause roof damage and water leaks. At the very least, they prevent melted snow from draining. While removing snow from roof eaves after a storm, or improving roof ventilation, can prevent ice dams, it's important to proceed carefully when dealing with one. Salt will corrode shingles. If you can reach the roof safely, use calcium chloride, or call a professional to address the problem properly.
Does Insurance Cover Replacing Roof Shingles?
Filing a roofing insurance claim for storm damage can result in being covered for partial or full roof replacement. Every insurance company is different, so there's no specific number of shingles that must be missing for a policy to kick in.
How Much Damage Requires Replacing a Roof?
While localized damage can be repaired, many experts suggest replacing a roof if the damage extends over 25% to 30% or more of its surface. Have a professional inspect your roof to determine how to proceed.
What's the Leading Cause of Roof Failure?
Deterioration of structural components due to water intrusion is the most common cause of roof failure. Water, mold, and bacteria can break down wood structures. Therefore, it's important to address signs of water damage early and ensure your roof is properly installed in the first place.
Call Wingate
We provide storm damage roof repair near Cincinnati and use the best materials to restore your roof. Dealing with storm damage can be a stressful and complex process. Wingate Heating, Air, Plumbing & Roofing uses the latest technologies and techniques to repair the damage. Our team can work with nearly any roof type or structure. To request storm damage roof repair, call (513) 848-4249 today.