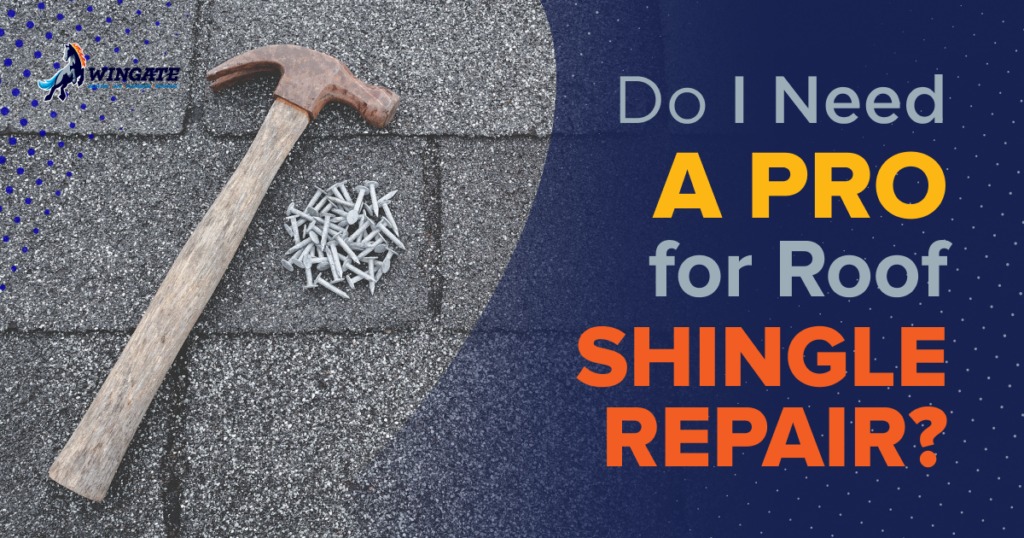 Roof shingle repair may be necessary after a wind or hail storm, but whether you need a professional or can fix the damage yourself depends on the extent. We generally recommend hiring a roofing contractor. Unless you know what you're doing, trying to repair roof shingles can cause more damage. And there may be issues you don't know about.
Here are some other reasons it can be risky to attempt roof shingle patching yourself:
The manufacturer may have discontinued the type of shingle you need.
Cutting the product to the wrong size can damage other shingles on the roof.
Wood or other materials underneath may be rotting; fixing a couple of shingles will only mask the problem.
Many contractors will suggest replacing the whole roof if numerous shingles have blown off. But if only a couple of shingles are missing, replacing them is usually okay. Asphalt shingles, found on most U.S. homes, can last up to 30 years and are highly weather-resistant. But despite their durability, wear and damage can occur over time.
The Challenges of Repairing Roof Shingles
A few factors make roof shingle repair difficult from a DIY perspective. One is that asphalt shingles seal onto one another. Even if you're fixing one or two, doing so means breaking the seal. To do this, tap the damaged shingle lightly with the back of a hammer and gently lift it (this will break the seal with the adjacent one).
Now, you can access the nails securing the damaged shingle. There may be four to six nails holding it in place, so be patient in removing them (it takes about a half hour). If the surrounding shingles haven't been damaged, slide the new shingle in place and make sure it fits. Use a new set of nails to fasten it. Then use silicone caulking or a spray adhesive to adhere the shingle to the roof.
How to Handle Roof Shingle Repair
Various issues can occur with roof shingles. Roofs can be damaged by high winds, prolonged heat exposure, standing water, freezing and thawing, or falling tree branches. If any shingles are cracked, curling, or leaking, it's best to call a pro, but here's a look at some common fixes:
Repairing Cracked Shingles
A cracked or torn shingle doesn't usually need to be replaced. However, if part of it is missing, it must be replaced with the same type and size of shingle. Otherwise, apply some roofing sealant under the crack, press down on the shingle, and apply a second bead of sealant on top of the crack. Use a putty knife to spread the sealant. Then check for any granules in the roof gutter, scoop some into a small cup, and spread them over the sealant to cover up the repair.
Fixing Curling Roof Shingles
Aging shingles may begin to curl at the corners. Downward or upward curls can be glued down. All you need is a caulking gun. Apply a little roofing sealant under the corner and weigh the shingle down with a small brick (just make sure it won't slide or fall off the roof). The sealant should dry in about 24 hours.
Shingle Roof Leak Repair
Broken shingles are one of the most common causes of roof leaks. Once a shingle has broken, water from heavy rain can seep through small cracks. If you notice water stains on ceilings or walls, check where the damage is on your roof. Fixing it may require repairing or replacing shingles, but it's highly recommended to hire a professional. You risk more costly repairs. Also, your insurance company may consider any mistakes to be gross negligence, so they will likely deny your claim.
Call Wingate for Roof Shingle Repair
Wingate Heating, Air, Plumbing & Roofing is a trusted roofing contractor in Cincinnati, OH. We use high-quality materials and the latest techniques to provide roof repairs that last. Serving the Cincinnati metro area, Northern Kentucky, and parts of Eastern Indiana, we prioritize safety. Our trained roofers can replace all types of shingles, patch holes and cracks, replace missing granules, and install new flashing. Roof repair can be dangerous, so we advise against attempting to fix any issues yourself.
We also provide storm damage restoration services. With any project, we quickly assess the damage, find a solution, and promptly start fixing your roof. We'll even help file your insurance claim. When performing any repairs, we fully evaluate your roof. If it's old and/or the damage is extensive, we'll help weigh your roof replacement options.
To request roof shingle repair or any roofing service in Cincinnati, OH, or surrounding areas, schedule your appointment online or call (513) 848-4249 today.